Satin Jewellery Box in Silver
Satin Jewellery Box in Silver makes it so easy for you to create a special gift or precious keepsake for either yourself or someone special.
The removable lid insert is removed, covered with your embroidered and/or embellished fabric and replaced to make a great gift.   A perfect project for a small piece of embroidery that doesn't really lend itself to be framed or made into a cushion.    Perfect size for an embroidered monogram, perhaps in a combination of ribbon embroidery and silk embroidery threads in your favorite colours.  (or your recipients favorite colours)
Embellish and embroider your fabric as you desire, cover the removable, padded lid with your worked fabric and replace into the box lid.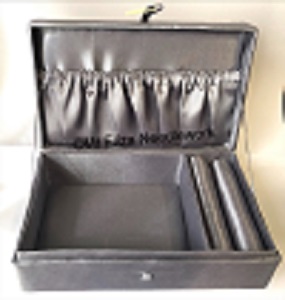 The box measures:
17.5cm W  x 10.5 cm D x 6cm H
(6.9inches W x 4.1inches D  X 2.5inches H)
The Silver Satin Jewellery Box makes a personalized, attractive and affordable keepsake or gift.
Each box has an elastic pouch in the lid and a separate fitted  compartment for rings.  Make up your own design, or use it to complete a UFO!
Editors Note:  this is my last one
Threads we have available to complete your project as follows: