Hello Everyone and welcome to our Online Store
After a long history in Mt Eliza, our beautiful shopfront store has now closed,
but we have all our goodies now available here Online.
As the long hot Aussie Summer continues…..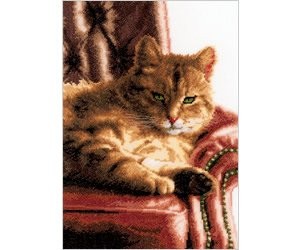 What a great time to get your chores done and settle in with the AC on with a favorite stitching project……..
This Cross Stitch is called Relaxed Tabby and is stitched on 28 count evenweave and is available online now.
Click HERE for more details…..
I am featuring this Kit during February as it reminds me that no matter what the weather is (hot or cold) a pussy cat will always choose the best possie in the house.
(mine included!!)
I had a worked sample of this picture hanging behind the counter in the store a couple of years ago, and it didn't matter where I was in the store…….. he was watching……………. 🙂 Stay Cool and Happy Stitching!! Jennifer
Yes, we stock
Enter into my ecommerce Store for fabulous projects and a wonderful assortment of threads, kits and treasures for your stash or current project!
Feel free to drop me an email if you can't see something I used to stock at the shop and I will get back to you about it……..
(it may just be that I haven't added it to the Online Store yet….)
Please also let me know if something is not working so I can fix it….!
I am looking forward to renewing friendships and providing you with the help and service that I loved when I had the shop at Mt Eliza. Jennifer