Rajmahal Art Silk Thread
Rajmahal Art Silk Thread is a wonderful versatile thread that gives a special effect and silk lustre perfect for all types of needlework including Brazilian, Stumpwork, Crewelwork, general embroidery,  petit point and cross stitch.
Available in stranded skeins of 6 strands each of 8 metres in 63 luscious Shades.
Rajmahal Art Silks are dyed so that shades are complementary to provide  perfect shading.   Art Silk colors range from the very rich and exotic, to delicate subtle pastels, on to the complex and deep renaissance shades.   A mixture of Rajmahal Art Silk Thread strands could also be tweeded together to create personalized and individual shades for a particular project.
Rajmahal Art Silk Thread is very similar to using other silk or rayon threads as it will give you an extraordinary special finish however silk threads can sometimes be a bit tricky to use, please read the following hints as provided by Rajmahal:
Preparing the Thread for use: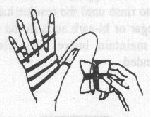 It is best to wind your skeins onto a card or spool prior to use. Remove label, cut the holding thread at the knot, then open skein out. Loop skein over thumb, then take the end of the skein and wind it thread around the hand, finishing with top over forefinger as in the diagram. Then wind thread from your hand to the card or spool.
Separating the Thread Strands
If using less than 6 strands, separate strands singly after cutting desired length. Take the end of the strand in one hand, holding the other strands together with your spare hand. Pull a single strand straight up from the bunch. Repeat until you have removed the desired number of strands. It is preferable to work with, rather than against, the grain or twist of the thread.
Successful Stitching with Rajmahal Art Silks
Art Silks can seem a little "springy" if you are used to working with wool or cotton. If you are noticing the "bounce"  you can "calm" the thread by
Passing the thread through an anti-static clothes dryer sheet
Running slightly damp cotton wool along strands just prior to use.
Pass thread lightly through beeswax (good for additional strength when using Art Silks in conjunction with metallics, shisha or sadi).
Spray thread lightly with spray starch
select the correct number of strands required for the work you are doing appropriate to the fabric you are using.
Use an appropriate needle suitable for the number of strands and your fabric.
Thread colors are shown next to their Shade number and name.
Please note: that online Color Charts  should only be used as a general guideline to allow for screen variances
Click HERE if you would like to add some addition sparkle to your work using DMC Metallic & Light Effects Threads
Click HERE if you would like to see a short video on how to do silk shading in long and short stitch by Sarah Homfray.