The Heart of Christmas is FAMILY Kit
by Needle in a Haystack
The Heart of Christmas is FAMILY Kit is a quick and easy embroidery Kit about the simple fun a family can have at Christmas. We are reminded of the simple joys of Santa's imminent arrival, the fun of being caught under the mistletoe, singing Christmas Carols and the fun that all of those things bring as well as wishing the joy of Christmas to all.
Using easy to follow pattern and instructions, embroider and applique this lovely panel to add some homemade Festive spirit to your decor.
Excellent kit for a beginner, experienced stitcher or
as a thoughtful gift.
Stocking Design approx: 30cmW x 28cmL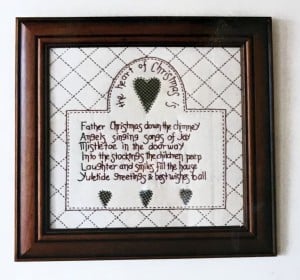 The Heart of Christmas is FAMILY Kit contains
Fabrics:

Calico
Gree/beige Check fabric
Pellon
Fusible Webbing

Red and Green Anchor Stranded Cotton
Color Photo
Pattern Sheet
Clear easy to follow instructions
We also have some other hand made Christmas Decoration Kits available
Santa Christmas Baubles (Kit makes three) or
a lovely Peace on Earth Christmas Hanging which features Doves,
the universal symbol of Peace.
Perhaps you would like to add to the children's excitement as they count the days down to Santa arriving with their very own Advent Calendar stitched and decorated by you from the range of Christmas Advent Calendars available online.
Just in case you are a bit nervous about embellishing and adding beads and sequins to your Advent Calendar
Click HERE to see how easy it is.