Ooshka Babushka Doll Face and Pattern Kit
by The Red Threader
The Ooshka Babushka Doll Face and Pattern Kit is a fun and easy way to make a bright and happy Babushka doll for your special someone (or yourself!)
 The Doll Face and Pattern Kit
will make a doll approximately 41 cm tall x 26cm wide
Suitable for beginners, more experienced stitchers or as a thoughtful gift.   The Ooshka Babushka Doll Kit would be a suitable toy for you to make for a baby.
The Ooshka Babushka Doll Face and Pattern Kit contains
Fabric face panel printed on linen/cotton blend
Easy to follow instructions
Color Photo
Pattern to make Ooshka Babushka Doll scarves
Pattern to make appliqued felt and fabric faces
Other Requirements:
Mix of four co-ordinated cotton fabrics
Fusible webbing  16cm x 15cm
Good quality polyester toy fill
Embroidery floss
Small scraps of fabric and fusible web to make flower embellishments
Ribbon and trims for additional embellishment if desired.
Approx finished size 26cm x 41cm
Please click HERE for the Ooshka Babushka Doll Kit which includes fabrics (fabrics vary from those shown)
See below for a link if you need to top up your embroidery thread stash….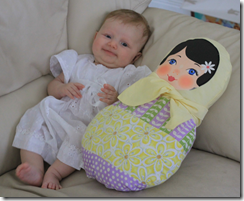 Some interesting historical information from Wikepedia about Babushka Dolls…
The first Russian nested doll set was made in 1890 by Vasily Zvyozdochkin from a design by Sergey Malyutin, who was a folk crafts painter at Abramtsevo. Traditionally the outer layer is a woman, dressed in a sarafan, a long and shapeless traditional Russian peasant jumper dress. The figures inside may be of either gender; the smallest, innermost doll is typically a baby turned from a single piece of wood. Much of the artistry is in the painting of each doll, which can be very elaborate. The dolls often follow a theme; the themes may vary, from fairy tale characters to Soviet leaders. In the west, Matryoshka dolls are often erroneously[3] referred to as "babushka dolls", babushka meaning "grandmother" or "old woman".
Please click HERE if you would like to learn more about the history of Babushka Dolls