Aussie Christmas Santa Sack Panel
The Aussie Christmas Santa Sack Panel is a LARGE, bright and happy Australian themed panel featuring Australian animals
including a Koala, Kangaroo, Kookaburra, White Cockatoos, an Emu, Wombat, Tasmanian Devil, Possum and Echidna, all surrounded by native fauna, Christmas lights and wrapped presents.
Suitable for all sewing levels, the Aussie Christmas Santa Panel is a bright and modern Panel  just waiting to be embroidered, embellished or just assembled to add the ultimate Santa excitement to your small people at Christmas time.  The Aussie Santa Sack will also add a fun, festive feel to your Christmas decor.
This lovely clean and modern designed Christmas Santa Sack would make the ideal gift for your special people overseas, whether they be young or old as it would add a touch of Australian Summer to their Winter celebrations.
Easy to follow assembly instructions are pre-printed on the panel.
Perhaps, as the Panel is a two sided print, you could either use both panels to make one Sack or add a contrasting or matching fabric on the back of each panel to make two separate Sacks.
This delightful Aussie Christmas Santa Sack Panel is  by Sugar & Spice Textiles and is 100% cotton.
The entire panel measures approximately 110cm x 90cm.
The finished size of the Aussie Christmas Santa Sack is approximately 50cm x 75cm.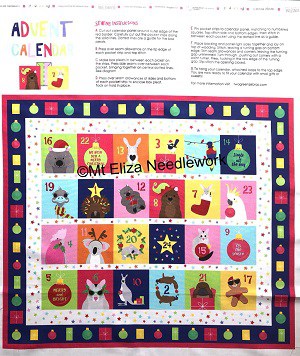 A complimentary Australian themed Advent Calendar Panel can be found HERE
Just in case you are a bit nervous about embellishing and adding beads or  sequins to your Aussie Christmas Santa Sack for some extra bling
Click HERE  to see how easy it is and begin straight away!