The M.E Needlework News
March  2015    Vol 9
Hello everyone,
As first term draws to an end, I have to tell you what great projects are underway, and take the opportunity to welcome all of our brave new stitchers. 
New students are anxious when they join in an established class where everyone is working on amazing projects…… they all forget, that we all had to pick up a needle for the first time once.   If we were lucky, we had a gentle soul show us the way, whether it was our grandmother, mother or father……. Otherwise we started by seeking out a teacher after falling in love with a project……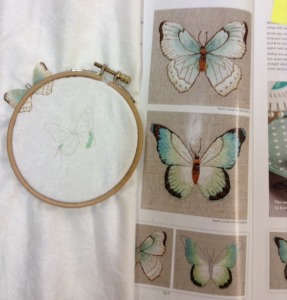 Our First term has showcased some fabulous projects being commenced.  If you are following us on Facebook, you will be seeing weekly updates and work in progress shots…..  and a photo of the finished project when it is finally completed…………  what of course this doesn't show,  is the thought, effort, love (and sometimes angst)  that goes into every finished piece.
We are taking enrollments for Term 2 Classes…. which will start the week of Monday 13th April.  We have several vacancies over the week if YOU would like a piece of this class fun…… For the weekly Timetable, click HERE. 
 If you are thinking you would like to join a class, but not in a position to take advantage of the discount, please at least register your interest in a class.   If we have no bookings and no one has indicated that they will be coming to class on a week to week basis, we may postpone the Classt and you may miss out …….
 This coming Term is 11 weeks, so lots of time to get that project either started or finished.  The discounted Full Class Term fees is available until the 10th April and we are accepting bookings now.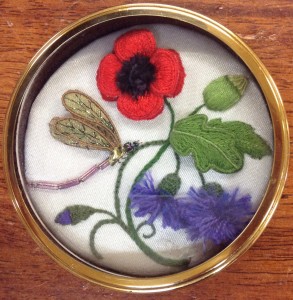 Some sad news, Jan Chester, an avid stitcher, active member of the local Embroiders guild and long time teacher at Mt Eliza Needlework (formerly  Eliza Craft & Wool) passed away in February after a short illness. 
We are currently displaying "A Celebration of a Life lived through Threads"  tribute window in the shop until the 30th March.   This showcases Jan's vast stitching abilities and projects, together with projects by her students in both the Embroideries Guild and our shop over the years.  It has been our way of showing our love and respect for Jan and for the loss of a master needlewoman.
Red Hill Show
The Red Hill show is on the 28th March, and I am delighted to say that several students (past and present) have put in entries.   Please support the Red Hill Show, we do not want it to go the way of the Royal Melbourne Show where there used to be a whole pavilion dedicated to needlework, and now all the entries fit into one corner of the new pavilion.
Facebook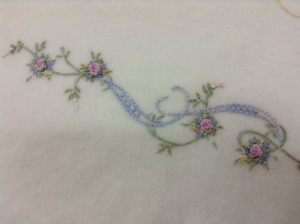 I hope you have all been enjoying the work in progress shots and finished shots that we are putting on our Facebook page.   Interestingly, the work in progress shots generate the most interest……. I guess we all love to try and work out how things are done………….
 Website
I have been online and updated a few of the photos on the pages………….. I wonder if you can see YOUR project on line???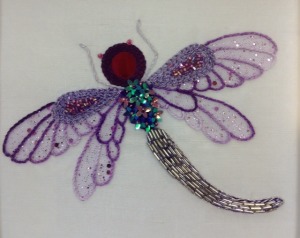 Children's After School Classes
Due to some school commitments, most of our after school embroidery students have had to transferred to the Tuesday class…. Which leaves some vacancies for the Wednesday Children's embroidery classes.   Please let me know if you know any young people who would like to have fun learning to embroider. I suspect for the first time, we will need to advertise to fill the Wednesday class, but I wanted to give you all priority on enrollments. 

This Term, the girls have been working on an embroidered Dragon Fly which featured embroidery, beading and metallic threads.  They are almost finished, so I will be able to put some of those photos on the website and Facebook pages as well.   Next Terms project is going to be an embroidered Tree of Life bag, suitable for carrying a hoop and project.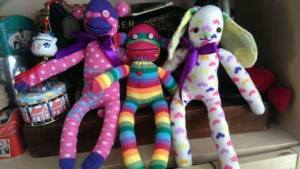 Children's School Holiday Workshops
These School Holidays, the Children's Workshops will be on either Wednesday 1st April or Wednesday 8th April.  Please Click HERE for the detailed Flyer.   The children will be having fun making either a sock monkey or sock bunny.  They will be sewing, stuffing, embroidering and adding buttons to finish off their newest friend.
We recently had a stitching emergency, when one of our ladies finished her piece of Jacobean work which she had been working on for six months……… when she washed it, one of the red stranded cotton dyes ran……….. disaaaaaaster……..  fortunately, she rushed down to the shop and Bev was able to recommend a  product called SOS Colour Run by Dylon (which is readily available at Supermarkets) which removed the dye after several applications………  the project was saved and all is well with the world again… 😉   Probably one of those products that every needle worker should have on hand…………
Feature book: Miniature Needle Painting Embroidery by Trish Burr Book
I thought I would let you know that Trish Burr has released a beautiful new book which features several stitching projects, suitable for a beginner or the more experienced stitcher.  The projects feature thread painting and have clear, precise instructions and photos to guide you.   Available in store at $39.99.
Some travel news, both Bev & Catherine are guest tutors on the on Needlework Tours cruise which is leaving on the 1stApril.   They have been very busy over the last few weeks finalizing their teaching projects and kits.   We wish them safe travels and lots of laughs and fun in their classes, as we have here in our Classes.
Further details on the Needlework Cruises and the newly released 2016 cruise is now available at….. www.needleworktours.com.au
Christmas ALL Year Classes
Our new Christmas ALL Year classes have begun…… initially we are only holding it once a month (on the 4th Tuesday of the month) but I suspect as the year moves along and Christmas starts to loom up, it may move to fortnightly……  These classes have been a lot of fun and already full of the Festive cheer…… lots of specialist projects being worked with lots of laughs….. I did also sneak in a bit of Christmas music on to get them all in the mood but they reckoned that was just tooooooo much….. will see how we go in this weeks class……….. Tuesdays 7pm-9pm, $30 All welcome, (bookings essential). 
Saturday Day Classes
All day Saturday Classes are continuing to be well supported and generate lots of happy smiling faces as projects get underway or finished.
Please click on the link below for further information on any of our classes on offer:
 Sit n Stitch with Catherine
Patchwork with Karen
Hand Made Teddies with Suzanne
Needle Felting  with Ruth
And  ONE OFF  Workshops
2015 Felt Heart Chatelaine with Robyn Alexander from Colour Streams  29th August
Goldwork with Alison Cole 26th September
And as Easter is almost upon us, we wish you love and Easter wishes for you and your families and trust that you will be able to find a little bit of stitching time for yourself in between chasing the Easter bunny and your family commitments!!
Happy Stitching to all,
Cheers,
Jennifer & the Needlework Team