The M.E Needlework News
June  2015    Vol 10
Hello everyone,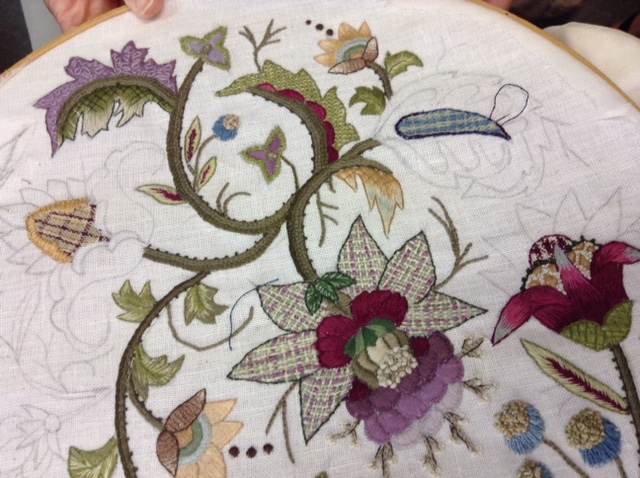 As we draw to the end of Second Term, I have to tell you what we have had a variety of outstanding projects finished over the first half of the year.    Lots more are underway, and if you are watching our shop Facebook page, you will be seeing work in progress shots……very interesting and inspiring…………..
We are taking enrollments for Term 3 Classes…. which will start the week of Monday 13th July.  We have several vacancies over the week if YOU would like a piece of the class fun…… For the weekly Timetable, click HERE.   If you are thinking you would like to join a class, but not in a position to take advantage of the discount, please at least register your interest in a class.   If we have no bookings and no one has indicated that they will be coming to class on a week to week basis, we may postpone the Class and you may miss out …….
This coming Term is 10 weeks, so lots of time to get that project either started or finished.  The discounted Full Class Term fees are available until Friday 10th July and we are accepting bookings now.
Red Hill Show
The Red Hill show was on the 28th March, and I am excited to announce that every entry submitted by a Mt Eliza Needlework student WON A PRIZE!!   Here are some photos of the winning entries………… special congratulations to Jo Gunnersen who won First AND Second place in the wool embroidery section.   As that is one of the categories that we sponsor, we are looking forward to Jo bringing in her First place  $100 voucher.
Facebook
I hope you have all been enjoying the work in progress shots and finished shots that we are putting on our Facebook page.  Recently, we have been including more finished projects….. well done ladies!!!………. now onto the next project (you have been looking longingly at for a little while……;-)
Children's After School Classes
This Term, our students are working on an embroidered piece that will be converted into a bag once finished.  It is an original design by Karen which will be big enough to carry their hooped embroidery project.  It is a Tree of Life with lots of little embroidered surprises and novelties included and in some cases some personal individual inclusions by the students.
Children's School Holiday Workshops
These School Holidays, the Children's Workshops will be on either Wednesday 1st July or Wednesday 3rd Julyl.  Please Click HERE for the detailed Flyer.   The children will be cutting, sewing and embroidering a book cover.  It''s a lovely day for the students to spend sewing and end the day with a finished project. Tuition, project, lunch and afternoon tea included.  Please phone Jennifer to book, limited places available, so don't delay…..(no extra days available these School Holidays).
Some travel news, both Bev & Catherine were guest tutors on the on Needlework Tours cruise which left on the 1stApril.   They both taught their own projects in their own classes and enjoyed both the cruise time, their classes, new students and the transit time in Singapore.
Further details on the Needlework Cruises and the newly released 2016 cruise is now available at….. www.needleworktours.com.au
Over the next few weeks (during the Term break) both Bev and Catherine are off teaching again. 

This time Catherine is headed to Koala Convention in Brisbane the second week of July.  In one of her classes, Catherine will be releasing her newest 3 dimensional project called Miniscule, which is snap shot of the busy life of insects…….  We have scheduled in our own specialist Workshop on 29th August.  See below link for more detailed flyer.
Christmas ALL Year Classes
Our new Christmas ALL Year classes are going well.   The evening classes are available on the 2nd and/or  4th Tuesday of the month but we also have an afternoon time available as well.
You know once we get to October it's too late, come on, come on in and make a start on that new family Christmas heirloom ( that all the children will be squabbling over………. )   Tuesday afternoon 12.30-2.30pm or Evening 7-9pm $30  All welcome, (bookings essential).
Tapestry Classes
Beginners & Advanced Tapestry classes have been running over the last couple of weeks and we are currently taking bookings for Term 3.  If you would like some company and some guidance in a new (or old) project or have been looking at some tapestry canvases and wishing you could do that, this is the class for you.
We are able to assist with selection of a canvas suited to your experience (including none) and get you set up with a frame, wools or stranded cottons and how show you how to stitch it.  A variety of canvas's are available…..
Be brave….. Come in and try…….
The worst thing that could happen is that you discover a quiet enjoyment in coloring in with thread………..
Saturday Day Classes
All day Saturday Classes are continuing to be well supported and generate lots of happy smiling faces as projects get underway or finished.
Please click on the link below for further information on any of our classes on offer:
Sit n Stitch with Catherine
Patchwork with Karen
Hand Made Teddies with Suzanne
Felting with Ruth
And ONE OFF Workshops
Heartfelt Chatelaine with Robyn Alexander from Colour Streams 15th August
Miniscule with Catherine Howell on 29th August
Goldwork with Alison Cole 26th September
Stock take sale
As we near the end of the financial year, we are currently running stock take sales.   At the moment it is the lovely crockery including some vintage patterned but new china.   Discounted prices are attached to the products, which are currently in the shop window.  So, if you have been eyeing something off for a while, now's the time to come on in and make it yours.
Think that's about it for now, look forward to seeing you all in store again soon,
Happy Stitching to all,
Cheers,
Jennifer & the Needlework Team