The M.E. Needlework News
13th January 2015  Vol 8
Hello everyone,
A very Happy New Year to you all, and we trust that you have a safe and happy Christmas and Festive Season……….
We send our thoughts and prayers to our Customers who were affected by the recent bush fires on the Peninsula or that have suffered a personal loss over the Festive Season……..
The shop is now open after our Christmas break and is now back to normal trading hours of  9am-4pm Monday to Friday and  10am-2pm Saturdays
Classes resume on Tuesday 27th January 2015
A copy of the 2015 Term 1 Classes on offer can be found HERE.
Please consider taking advantage of the $30 savings if you prepay the full Term fee by Friday 23rd January…..
Being prepaid also gives you priority bookings for classes and priority when making up a class.
Whilst there is a cost savings to you for prepaying, it also give the shop and teacher the confidence to plan for classes and special projects as we know that classes will proceed.   Often students are reluctant to commit as they are concerned about missing classes due to illness, holidays, or just life events (What???)   so I have been encouraging my current prepaid students to take advantage of the opportunity to "make up" a missed class prior to actually missing it…… that way you know that you won't lose out…..  If you do this early in the Term it means that we avoid the rush and crush in the last two weeks to fit everyone in.
If you get to the end of Term and you have already used up your 8 or 9 classes, you can either finish up early or pay for an additional lesson so you don't miss out on the class fun.
** Students intending to re enroll…….. could you please give the shop a quick ring to register your place in your preferred class to ensure you don't miss out……… thank you……..
Picture Framing by Pier Street Gallery
While the shop is quiet, (prior to classes resuming on the 27th January) …. now would be the time to pop in for some one on one time to select framing for projects or photos.
It would also be a suitable time to drop in that canvas or tapestry that you would like made into a cushion.
Some new classes on offer this Term……
Christmas ALL Year
Karen will be taking a new class on either Tuesday afternoon 12.30pm-2.20pm OR Tuesday evening 7pm-9pm to work specifically on Christmas projects.   This could be something that you already have and have been meaning to do but didn't know where to start, or it may be one of the special projects we currently have on display in store.  The latter are not commercially available so will be especially unique and treasured…..
Click HERE for the detailed Flyer.
As this is a new class, please register your interest by Friday 23rd January.
Children's Sewing Machine Lessons or Adult Sewing & Dress Making Lessons  have been scheduled on a Monday.  This is something new to the store and could be tailored (pardon the pun) to suit student's requirements whether it's to get to know your sewing machine or learning how to adapt a pattern to your specific requirements.
As this is a new class, please register your interest by Friday 23rd January.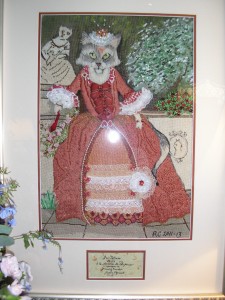 Creative Canvas with Robert
If you have been visiting the store over the last few months, you will have no doubt seen some of Roberts work.  It has generated quite a bit of interest (and sometimes quite a conflict of opinion).  Robert's style is bold and innovative, and he likes to develop individual projects using any medium in a variety of stitches which gives him the look that he wants.   Whilst he likes to feature his cats, YOU do not…(unless you want too)…
Be Brave, come in and learn something quite different and individual.
Click HERE for a more detailed brochure.
Crochet Lessons
I have also been offering one on one, ONE Hour crochet lessons for either beginners or the more experienced crocheter who has a tricky pattern that they are bit stuck on……….
For a beginner, we slowly introduce basic stitches over the first two lessons and then on the third lesson focus on how to read a pattern.  I am finding that often a beginner will come in to learn how to make something specific, so we work on that instead….  Appointments essential, and are held on either Tuesday afternoons or Friday afternoons.  $30 per 1 hour lesson with Jennifer
I will also be trialling a weekly group Crochet Class on a Friday morning between9.30am-11.30am @ $30 for a two hour class.  As there is not the same time availability in the group environment for true beginners, some basic crocheting knowledge would be an advantage.
As this is a new class,please register your interest in this class by Friday 23rd January.
Weekly Teddy Bear Classes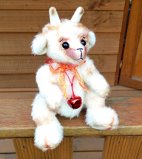 We are now offering weekly Teddy Bear making classes on a Tuesday 9.30am-11.30am with Suzanne, who we welcome to the teaching team.  Suzanne brings her unique style to her projects and we are excited to be able to offer her classes  which include handmade bears and a variety of  other cute animals.   This is Gandolf Goat, Suzanne's newest little fella which will be featured in the February issue of Australian  Bears and Dolls.
Come and made someone special for your special someone!!
 Saturday Workshops
We have busy year ahead, and are offering the following ONE day Saturday Workshops:
Creative Canvas with Robert    Click HERE
Needle Felting with Ruth   Click HERE
Patchwork with Karen     Click HERE
Sit n Stitch with Catherine    Click HERE
Teddy Bears with Suzanne   Click HERE
Saturday workshops = 6 hours of Tuition, fun company other students,
all enjoying their own time away from home and a catered  lunch
(that you did NOT have to prepare)….. 🙂
Please book early as the Saturday classes fill fast, and are an excellent way to spend the whole day under instruction to get that project underway or even finished.
And some forward notice that we are also offering a One Day Workshop on:
Goldwork with Alison Cole  26th September 2015
The project for the day will be one of your latest released kits called the Emerald Dragonfly.
Alison travels the world teaching Goldwork and I am sure that you will enjoy her newest project.
Please click HERE for a detailed Flyer
Red Hill Show
The Red Hill Show will be held on Saturday 28th March and I encourage ALL of you to support it by either attending or more importantly entering your work.   Mt Eliza Needlework is a proud sponsor of the Red Hill Show and a firm believer that we need to support our local events to ensure their survival.  Entry forms can be downloaded directly from their website www.redhillshow.com.au or we will have some in store for your convenience.  We will be offering  a (free) delivery and collection service from the shop for your entries, all you have to do is attend the Show and collect your prize tickets!!!
Entries Due:       Friday 13th March 2015
Exhibits Due:      Wed    25th March 2015
Judging:            Thurs  26th March 2015
Entry Fee:          $2.50 per Entry (Senior Classes)
$1.50 per Entry (Junior Classes)
Mt Eliza Needlework $100 Vouchers for First place in Creative Embroidery, Ribbon Embroidery and Wool Embroidery.   $100 Vouchers for Judges Choice and/or Encouragement Award in Applique, Patchwork & Quilting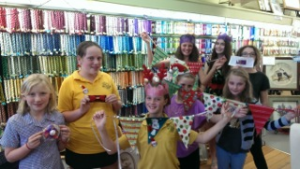 Our after school Children's Embroidery students worked on Christmas bunting last Term, and here is a shot  from the last class.   Really love having them in store to encourage and learn what we already love, and hear their chatter and laughter as they work on their projects.  This Terms project is going to be a Dragonfly featuring embroidery, beading and working with metallic threads.
Sample in store now……  .:-)
Reminder to follow/like the shop page on Facebook if you want to keep up to date and watch the progression of some of the latest projects students are currently working on………
 Think that's about all from me for the moment.  I look forward to seeing you all in store at some stage…. You know how much I love finding out how your current project(s) are coming along.  🙂
Happy Stitching to you all,
Regards,
Jennifer and the Needlework Team